Increase sales productivity with our CRM
Speed up your sales team's follow up potential with:
Fullly customizable sales pipelines
Interaction history in the student's profile
Store student information all in one place
Daily reminders of activities with your students
Easy document management and storage
Customized sales reports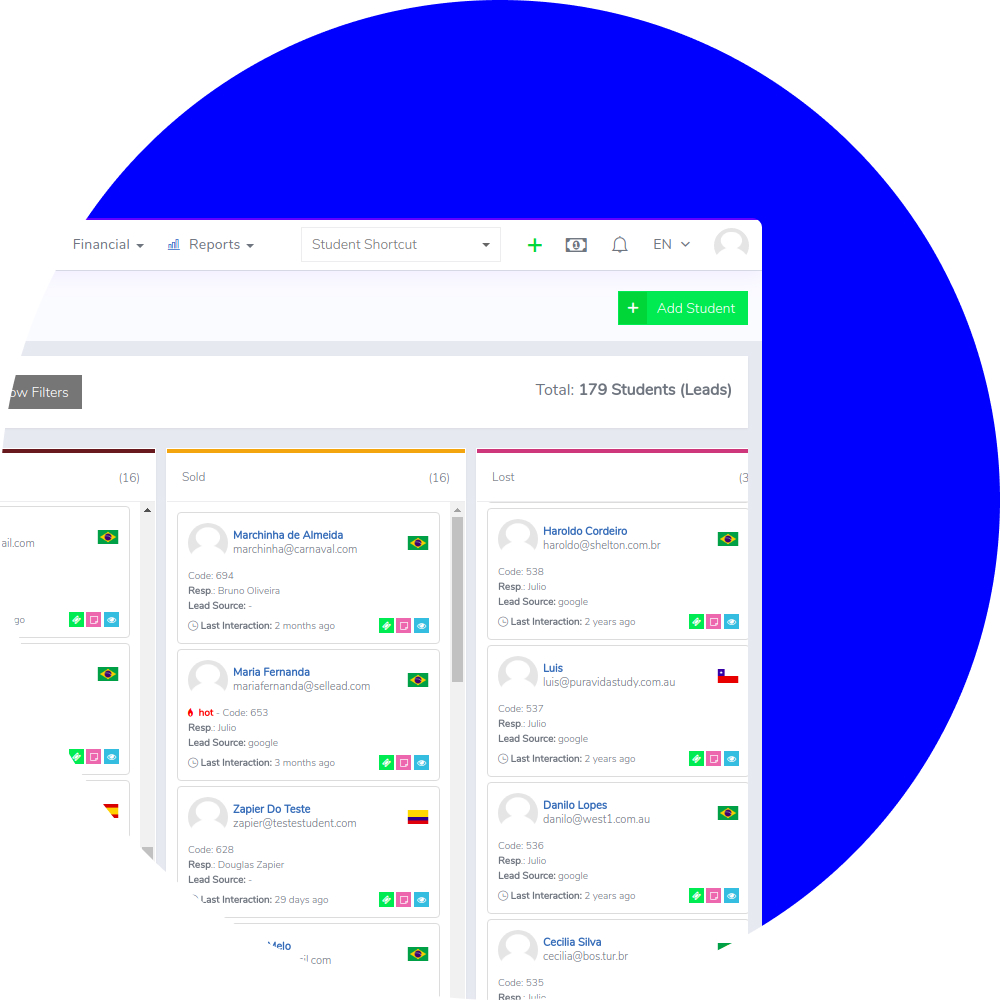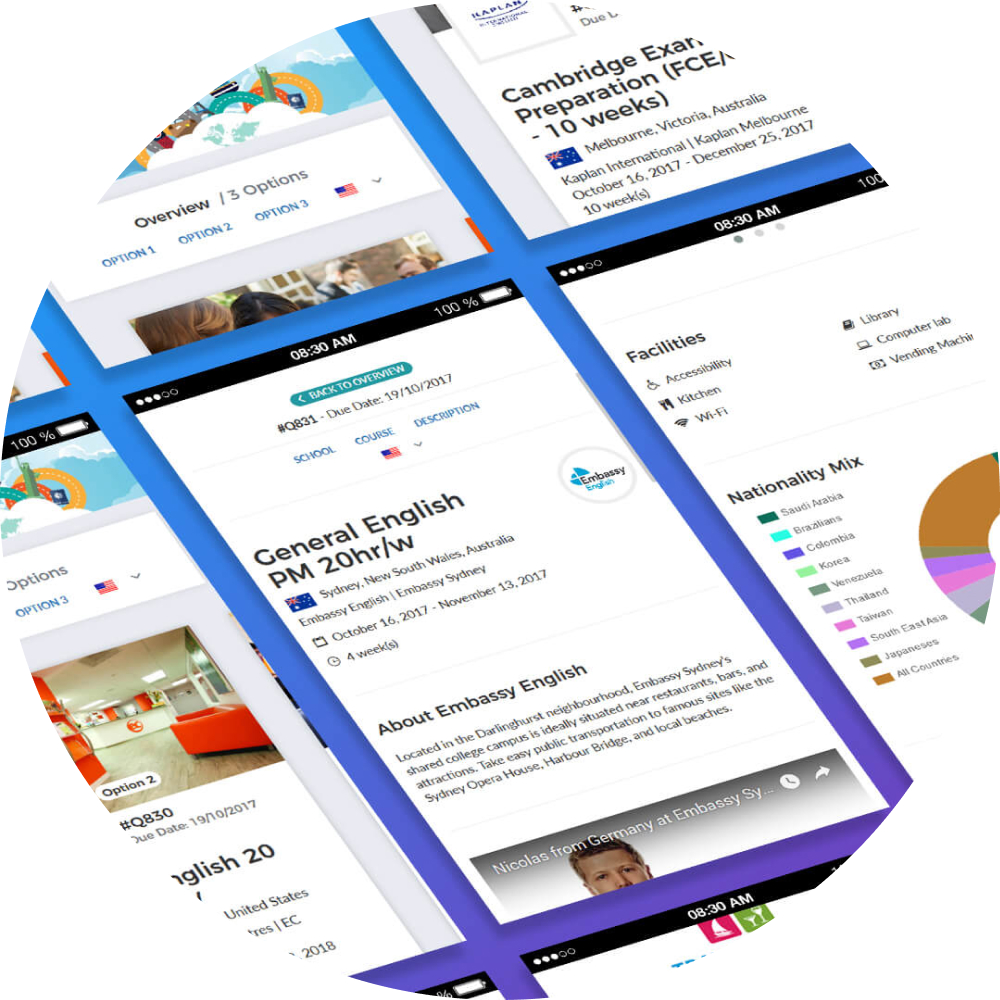 Increase sales conversion rate with online quotation
Fast quote creation and customization with:
Real time pricing and promotions (guaranteed by Partner Schools)*
Friendly quote layout designed for all devices
Agile and multiple quote creation tools
Attractive payment plans
School's and program information, photos, videos, marketing materials and more
Improve your Financial health
Organize yourself and be prepared for everything with:
Bills and receivables management
Invoices and receipts creation
Commissions management
Earning reports
Future revenues' and expenses' forecast
Integrated payment solutions (credit card and bank slip)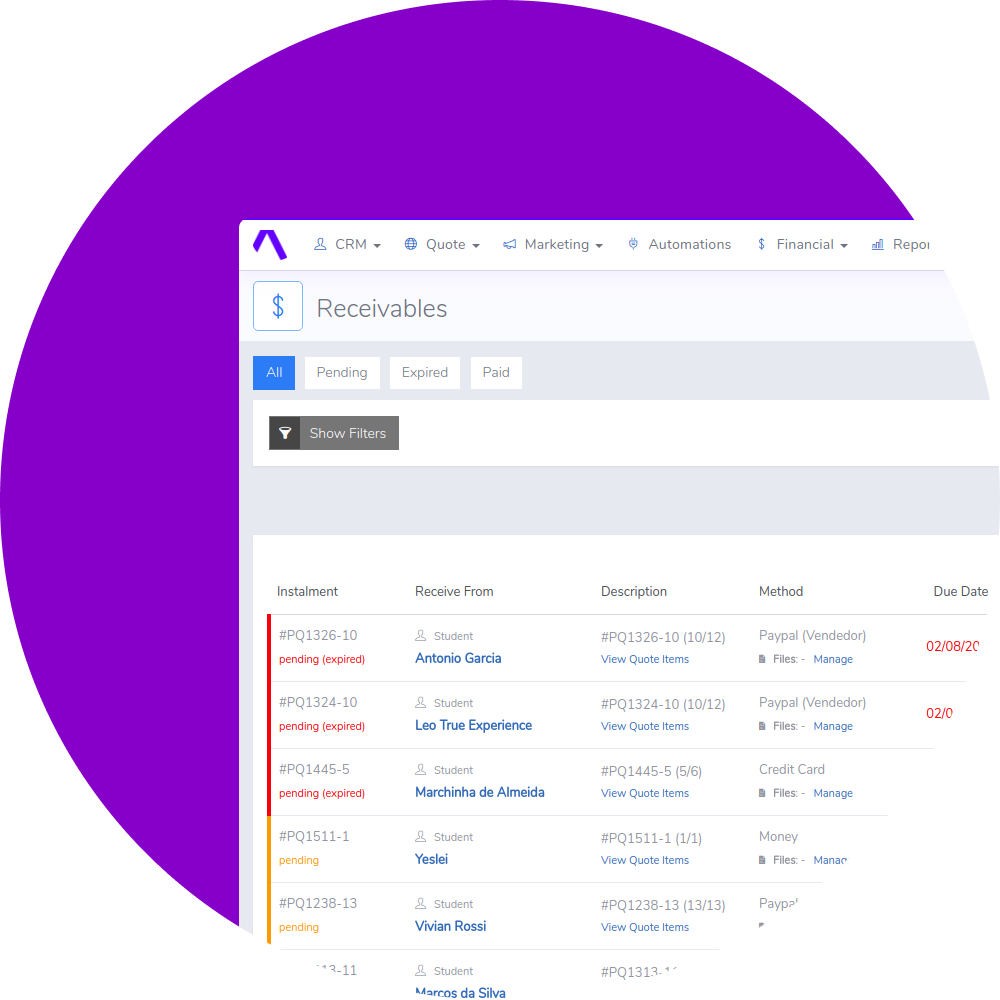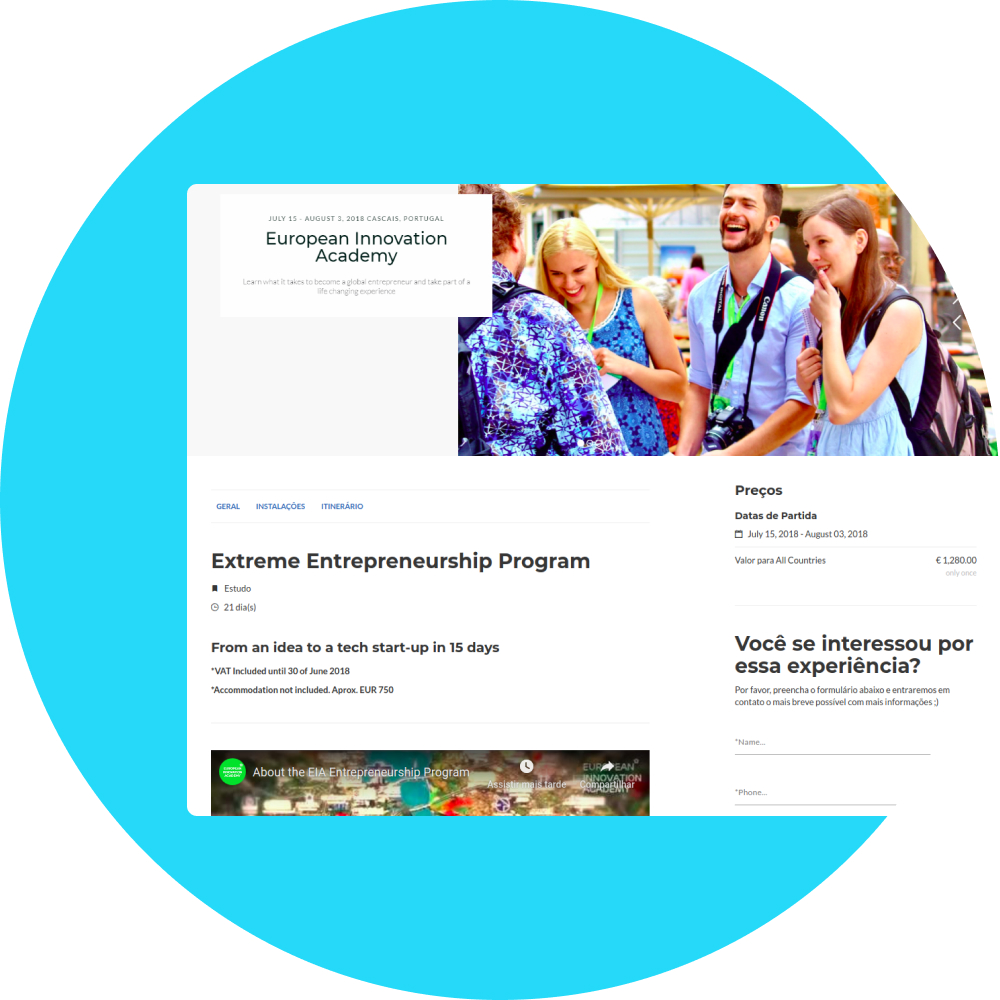 Generate more opportunities with our Marketing
Attract students and send promotions with:
Landing page creation tool
Segmented quote campaign tool
Social media shareable pages
Other marketing platforms integration
Put your agency on the autopilot with our Automation
Create automation for daily activities like:
Bank slip sending
Overdue payments collecting
E-mail sending (student's birthdate, before program start date, before a flight and more)
Notifications to your team
Pipeline status changing
Fee application for specific countries or nationalities and more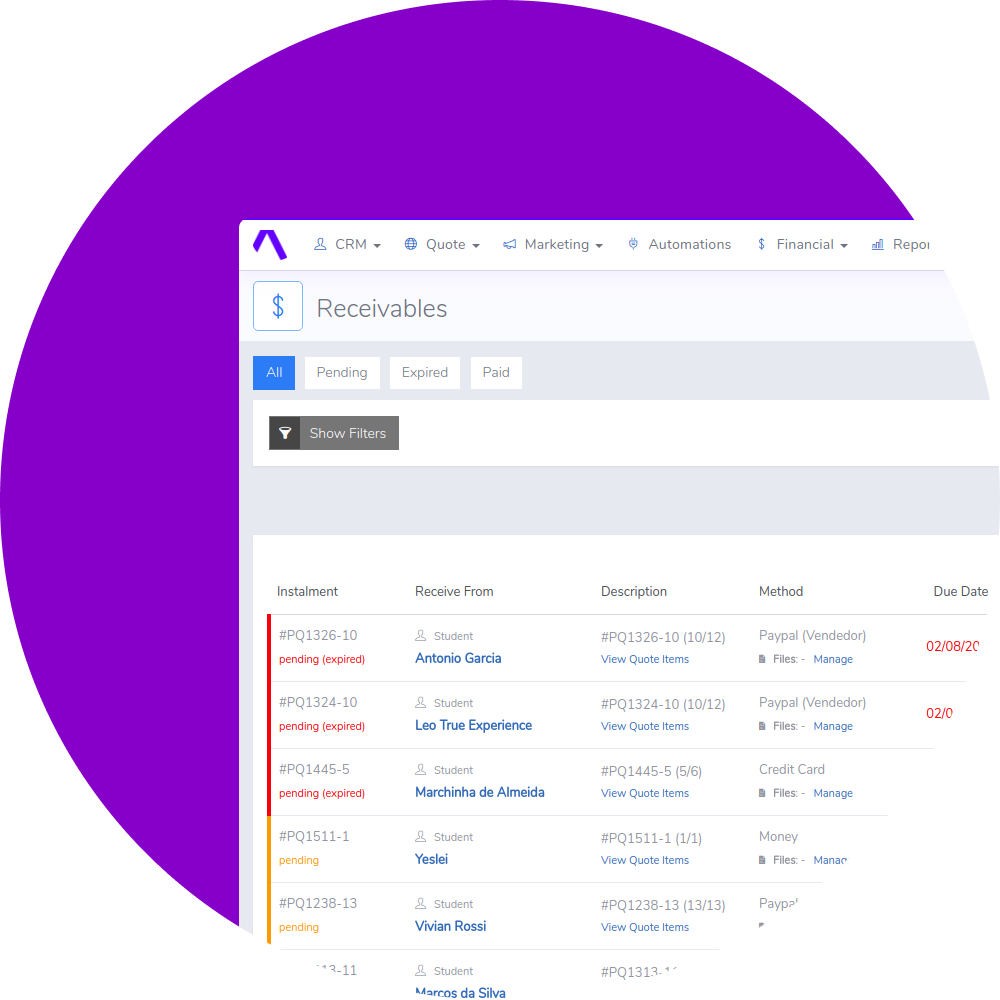 ---
Pricing
Start using today and then upgrade accordingly to your needs.
radio_button_unchecked
Quote Only
Starting at $14.90/month


Billed monthly
radio_button_checked
Quote + CRM
Starting at $29.90/month


Billed monthly
For agencies that struggles in keeping their operation centralized and seeks for a powerful and integrated platform to manage their leads, quotes, and much more, all in one single place.
Features
check_circle
Access to 700+ educational institutions fees
check_circle
Create your own schools, courses, accommodations and service fees
check_circle
Send online quotes
check_circle
Online applications
check_circle
Multi providers
check_circle
Custom integrations
check_circle
Unlimited leads
check_circle
Multi offices and permissions
check_circle
Multi currencies
check_circle
Sales report
check_circle
Performance report
check_circle
General behavior report
check_circle
Visa, flights, health insurance and OSHC management
check_circle
Multi sales pipelines
check_circle
Leads perception
check_circle
Well organized agenda with tasks and events
check_circle
Files upload
check_circle
Generate documents and contracts
2. Enhance your experience in the platform
check_box_outline_blank
Financial
$20/month per office
(This module is only available to include in the Quote + CRM plan)
check_box_outline_blank
Marketing
$10/month per office
(This module is only available to include in the Quote + CRM plan)
check_box_outline_blank
Automation
from $50 /month
(choose a plan)
(This module is only available to include in the Quote + CRM plan)
---
3. Customize your plan
Choose how many users you will have
3 users
1 26+
Choose the number of your agency offices
1 office only
1 20+
Choose your automation demand
radio_button_checked
1K Interactions
20 Automations
$50/month
radio_button_unchecked
3K Interactions
50 Automations
$100/month
radio_button_unchecked
10K Interactions
150 Automations
$300/month
---
4. Choose your payment plan
(price for

1 office only

)
(price for

1 office only

)
(price for

1000 interactions and 50 automations

)
radio_button_checked
Monthly
(Default)
radio_button_unchecked
Semiannually
(15% OFF)
radio_button_unchecked
Annually
(20% OFF)
This is the
monthly
cost that we estimated accordingly to the modules and tools you've selected above.
No hidden fees.
We value the transparency with our customers. Book a demo today!
Talk to a consultant